Costum front doors in Luxembourg: secure and welcoming
Fermé-Lux advises you on the material, design, configuration and even the locking system of your entrance door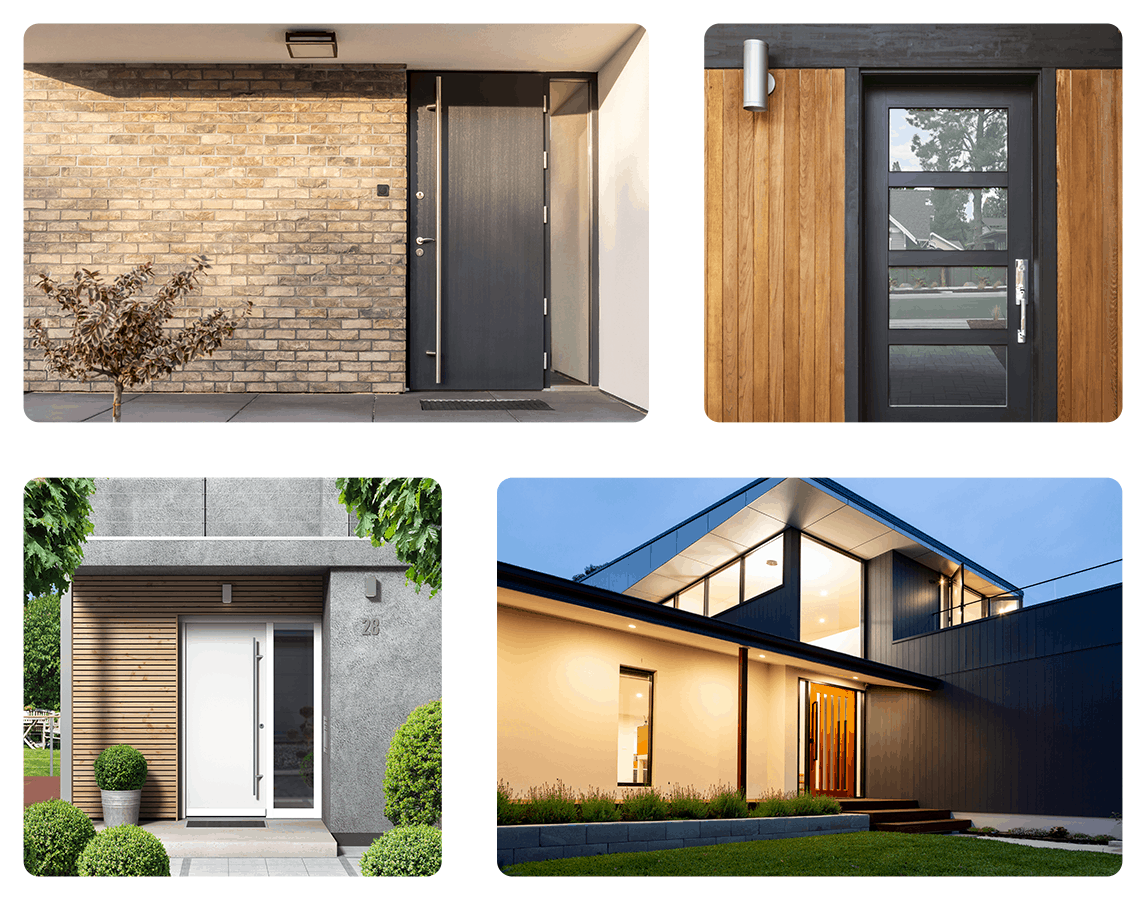 Front doors reinvented
Fermé-Lux is a specialist in the installation of entrance doors in Luxembourg.
A well-designed door for any event
Integrated acoustic performance
The assurance of a perfect installation

Entrance doors: Why FERMÉ-LUX?
Entrance doors installed by Fermé-Lux are distinguished by their high quality, sturdiness, thermal performance, and the special charm they confer on both the façade and the interior of the home.
Entrusting the installation of your entry door to Fermé-Lux is the assurance of calling upon a professional with more than 20 years of expertise. We believe that the entrance door is the separator between the two worlds of interior and exterior, and must therefore give a good impression to passers-by and visitors.
Fermé-Lux offers you the installation of a personalized, elegant door with very advanced security parameters.
The PVC entrance door has the advantage of being particularly economical compared to other types of doors. The level of thermal insulation is customizable because it depends on the thickness of the panel or the insulating material placed on top.
At Fermé-Lux, we can install your PVC entrance door in the desired dimensions and with the aesthetic finish that best suits your desires. And in order to reinforce the security aspect of your PVC door, we will personally advise you on the style of frame and the most suitable locks.
Aluminum entry doors are full of functional and aesthetic advantages. They are very popular because of the infinite possibilities of personalization that they allow, in addition to their ease of maintenance and their durability.
Aluminum is very popular for its resistance to mechanical aggression. Even if the entrance door is located in an area of frequent traffic, it is difficult for it to be marked by scratches or abrasions, especially if it is regularly maintained.
You have a project of installation of a front door?
Contact us and ask for a free, personalized and detailed estimate! We also offer advice without obligation on the choice of material, model and design of your front door!
The elegance of wood will perfect your entrance. Fermé-Lux can also offer you unique designs with an ingenious configuration and a pleasant finish to enhance your façade.
The wooden entrance door is perfectly suited for single-family homes, and can be made in a modern and contemporary look, or even traditional and rustic, and with the desired opening mechanism.
Do you have an Alu/Wood front door model that you particularly like? Contact us to discuss it! We will be able to present you a door that combines the charm of wood and the resistance of aluminum. We will be happy to put our know-how and our passion for carpentry at your disposal.
With an Alu/Wood entrance door, you can also benefit from acoustic and thermal insulation that will optimize the level of comfort in your interior spaces.
Our partners for entrance doors
Fermé-Lux counts with a network of professionals to improve your living space.
Want to design a new entrance door?
Fermé-Lux is committed to offering you personalized advice and to manufacturing the door of your dreams that offers you security and comfort
A service adapted to our customers
A service adapted to our customers
An impeccable installation
An impeccable installation
A clear and transparent offer
A clear and transparent offer