Custom sun protection solutions for interiors!
Visual, aesthetic and thermal comfort guaranteed thanks to solutions adapted to your solar protections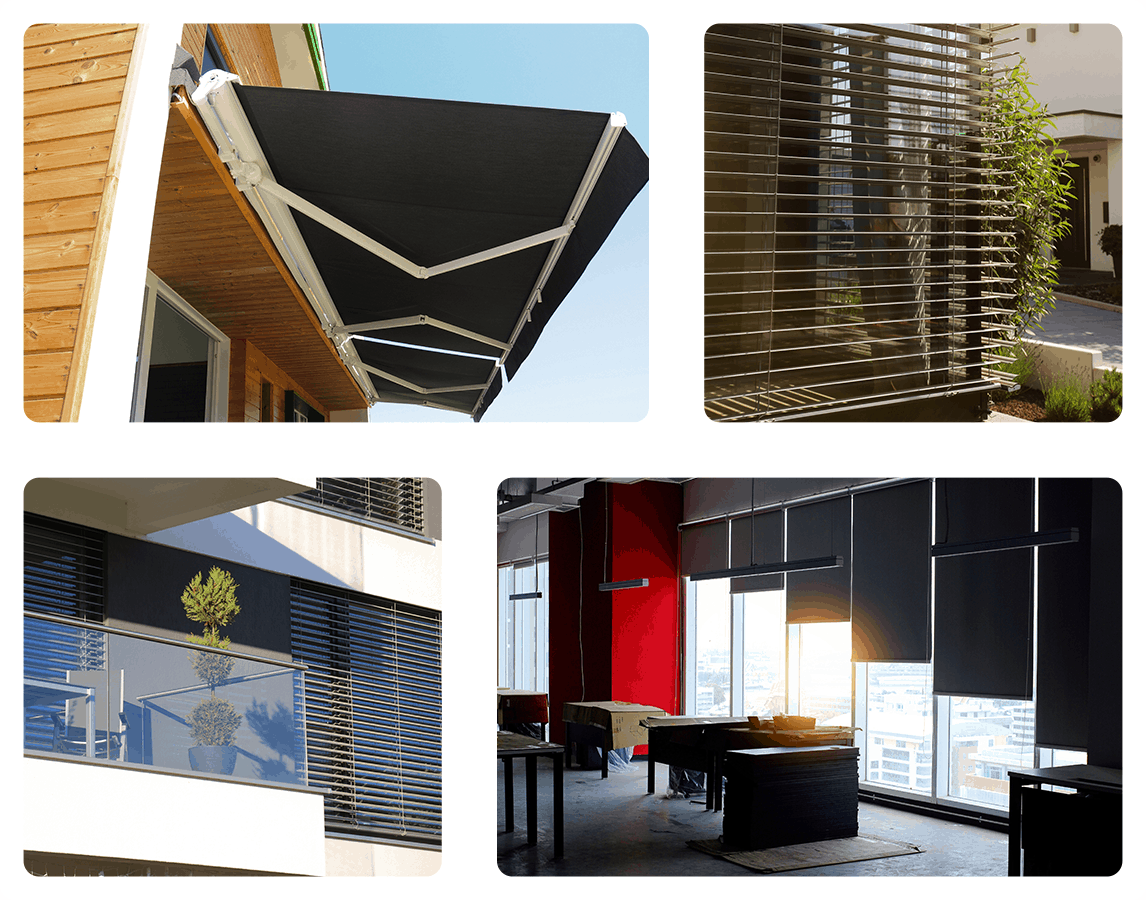 Break the sun to stay protected
Fermé-Lux is specialized in the installation of solar protections in Luxembourg.
Protect your interior from light & heat
A large choice for any adaptation
Perfect design & well thought out
Sun protection : Why FERMÉ-LUX ?
To protect your interiors from overheating when the sun is at its peak, or simply to keep your privacy from prying eyes, Fermé-Lux offers a range of innovative solar protection solutions.
At Fermé-Lux, you can choose between opaque solar protection or others that allow you to keep a view on the outside. Between roller or swinging shutters, raffstores, screens, awnings and interior solar protections, Fermé-Lux is committed to guaranteeing perfect shading that will optimize comfort in your spaces.
For stylish solar protection that reflects your image, Fermé-Lux will accompany you from the idea to the implementation!
Fermé-Lux offers you the many advantages of roller shutters. Secure, durable and easy to handle. This solar protection guarantees your comfort in case of rough weather conditions and protects you in case of a break-in attempt.
With Fermé-Lux you have the choice between different types of installation when choosing a motorized system: exterior installation, in the lintel or in the wall. In addition to the installation, Fermé-Lux also takes care of the repair of your roller shutter in case of failure.
If you are a fan of classic styles, choose shutters! These shutters are perfectly adapted to all architectural styles and can be made in different styles and colors. Fermé-Lux also offers you different possibilities of filling your shutters, so you can customize them to your liking to meet your quality and aesthetic standards.
Contact Fermé-Lux to discover all the possibilities of realization of your shutters.
Slatted blinds allow you to direct the daylight. Easily foldable and stackable, the slats allow you to control the level of thermal and light comfort in your interiors.
Thanks slat blinds, glare from sunlight reflected on window panes is a thing of the past. At Fermé-Lux, the blinds are fully customizable, from the choice of slats, through the reinforcement system to the colors and dimensions.
Do you want to optimize the comfort in your indoor or outdoor spaces?
Opt for solar protections designed and made to measure by Fermé-Lux to guarantee your well-being!
The screen is a vertical blind that allows light to pass through without depriving you of the beautiful view outside. This solar protection has several advantages, first of all the possibilities of personalization are numerous, thanks to the parameters of opening and transmission which determine the level of transparency of the screen.
Fermé-Lux offers you screens that allow you to limit energy losses when using heating or air conditioning, with the guarantee of good wind resistance in addition to a perfect privacy environment.
Interior solar protection
The interior solar protections installed by Fermé-Lux offer great comfort in all seasons. Whether it is a living or working space, Fermé-Lux adapts to your requirements in terms of light and privacy. And since design is just as important as functionality, Fermé-Lux makes sure to offer you interior solar protection that enhances your spaces and brings real aesthetic value to your property.
Elegance and efficiency are the hallmarks of the awnings installed by Fermé-Lux. They are made to measure, for windows or doors. Fermé-Lux offers wood, wrought iron and aluminum awnings in a classic or modern style.
At Fermé-Lux, we guarantee the durability of the frame and the fixing supports of your awning, thanks to a high quality thermo-lacquering that consolidates their resistance to water, high heat and mechanical aggression.
Our partners for solar protection
Fermé-Lux counts with a network of professionals to improve your living space.
You want to build or renovate your solar protection?
Whether it's an awning, a screen, a raffia or shutters, Fermé-Lux is your partner who is committed to offering you the best shading solutions at the right price!
A service adapted to our customers
A service adapted to our customers
An impeccable installation
An impeccable installation
A clear and transparent offer
A clear and transparent offer