Installation of custom windows in Luxembourg
Fermé-Lux is a professional windows installer that give a comforting and distinctive aspect to your home!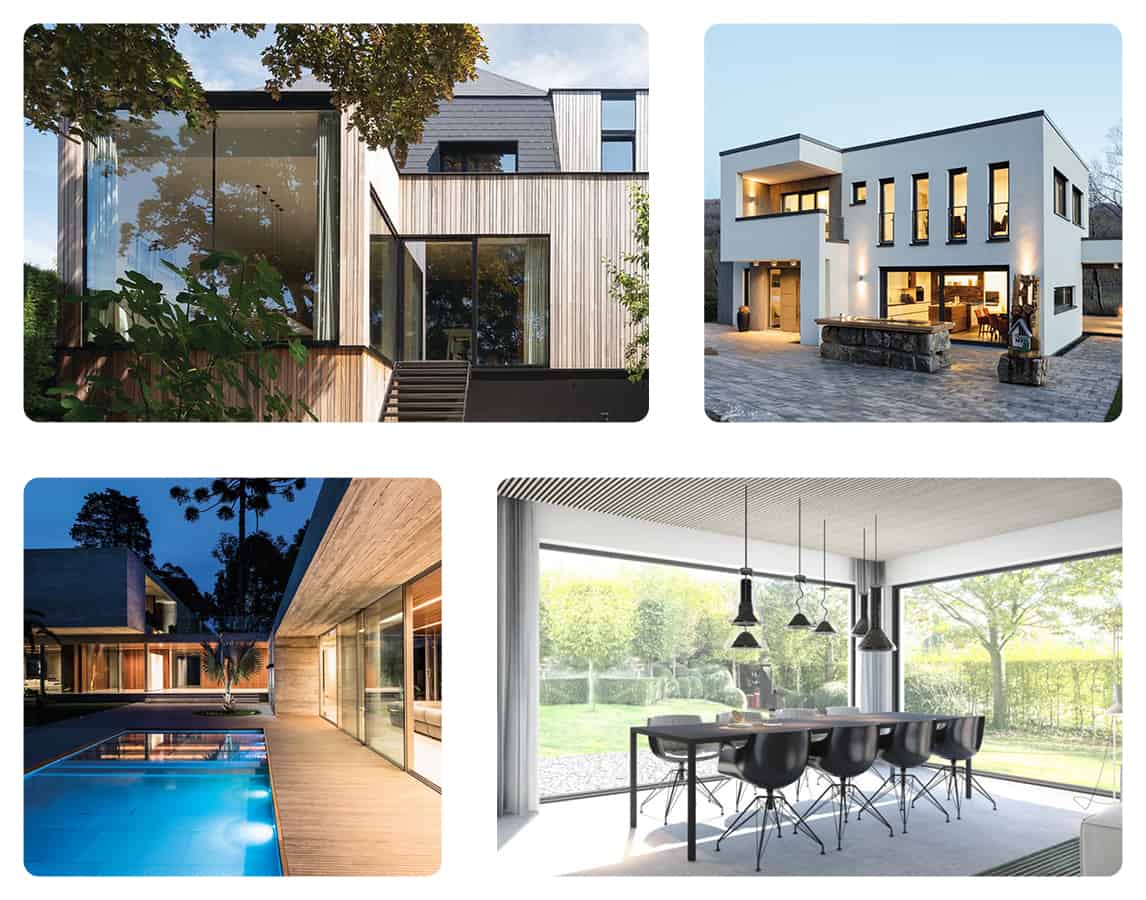 Decorative & efficient windows
The company Fermé-Lux is a professional of the windows which will make your spaces a pleasant and unique place!
A wide range of shapes & of materials
High quality brand : Schüco, Unilux, Aliplast
Acoustic performance integrated in the glazing
Guarantee of a perfect installation
Custom-made windows: Why FERMÉ-LUX?
The installation of windows is one of the historical specialties of Fermé-Lux. Thanks to our expertise, we are able to install all kinds of windows: fixed, swinging, hopper, panoramic and much more.
With our eclectic skills, we can install, design, repair and renovate windows in any configuration. The customization options are endless, thanks to our varied material library and industrial mastery of manufacturing processes in addition to a very sharp artistic sense.
Fermé-Lux is at your service to offer you the window that best suits your needs.
PVC window, French window and bay window
PVC is known for its durability, strength and flexibility. As the main component of a window, patio door and bay window, PVC maintains its new appearance for a long time and never depreciates in the face of external aggression. Windows from the brand Schüco and Unilux are easy to install, maintain and repair in case of failure.
Fermé-Lux gives you the benefits of PVC, by creating openings in a style that will enhance your living and working spaces.
Window, French window and bay window Alu/PVC
The aluminum/PVC combination has many advantages: remarkable thermal performance, numerous customization possibilities and exceptional air tightness. Mixed and multi-material openings have always been the winning choice for those looking for the perfect combination of functionality and aesthetics. At Schüco and Unilux, design and functionality go hand-in-hand.
At Fermé-Lux, we will help you design your window, French window or bay window in Alu/PVC for a unique result that reflects your personality!
Aluminum windows, patio doors and bay windows
According to the specialists of the design and the interior fittings, the aluminium openings marry perfectly the modern, lofts or retro styles of the spaces where they are installed. Aluminum has the advantage of being available in the most specific desires of personalization in forms and colors.
Our dexterity and know-how have made us an installer of aluminum windows, patio doors and bay windows who knows where he is going and how to get the job done in total respect of our customer's budget and time. Our perfectly installed windows will make you gain in elegance and even comfort in your interiors.
You want to make, repair or renovate a window?
Do not hesitate to contact Fermé-Lux! We will be happy to offer you the perfect solution!
Window, French window and bay wooden window
Gone are the days when wood was considered exclusively for creating a rustic and traditional atmosphere in interior spaces. Wood has proven its undeniable charm even in modern and ultra-sophisticated homes. Our partners Schüco, Unilux & Aliplast offer a wide range of wooden windows.
At Fermé-Lux, we pay special attention to wood openings. This material is available in different shades, species and grain patterns to satisfy the most selective tastes.
Window, French window and bay window Alu/Wood
The combination of aluminum and wood has always been attractive because of its resistant and insulating characteristics, and it also allows the creation of profiles that are advantageous in all respects. Whether it is windows, French windows or bay windows made of Alu/Wood, Fermé-Lux is able to create works that meet all aesthetic tastes and functional preferences.
You can benefit from Fermé-Lux's achievements that will fill you with satisfaction, thanks to our advanced equipment and our solid skills in the realization of openings combining wood and aluminum.
Fermé-Lux installs custom-made mosquito screens that perfectly match the style of the openings they are intended to protect. You can choose between different types of screens: sliding, fixed frame, swinging, roll-up, pleated, lateral and much more.
The mosquito net's role is to protect you from pests and pollen and all other small creatures that will disturb your comfort in your living or working spaces, a simple and ingenious idea that will allow you to enjoy the light and fresh air in peace.
Our partners for windows
Fermé-Lux counts with a network of professionals to improve your living space.
Need to entrust the realization of a door, a window or a screen to a professional carpenter? Fermé-Lux is the right address!
Contact us now!
A service adapted to our customers
A service adapted to our customers
An impeccable installation
An impeccable installation
A clear and transparent offer
A clear and transparent offer